Other
Facilites
AUDITORIUM :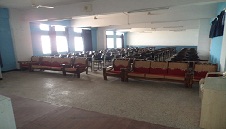 A separate well furnished auditorium is available for the students and staff. The seating capacity of the auditorium is 400 nos.
The auditorium is provided with LCD Projector, Overhead Projector and Sound system.
National level seminars, workshops, guest lectures, college functions (such as - Elocution, Debate competition, Paper presentations, etc.).
Museum :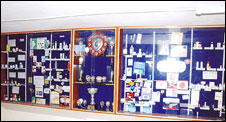 The museum contains various Pharmaceutical formulations available in the Indian and International market.
HOSTEL & CANTEEN & Guest House FACILITY :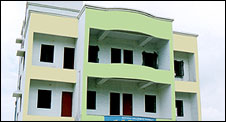 Luxurious hostel with mess facility is available for boys within the campus. Intake capacity - 45.
A separate Rector is present in the hostel.
For entertainment of the students a T.V. hall with Dish TV and a DVD player is available.
Solar water heater provides hot water throughout the year and aquaguard chilled water is provided for drinking purpose.
Luxurious and well furnished guest house is provided to the guests (Parents, Examiners, etc.).
Cafeteria provides hygenically prepared food. Basic recreation and sports facilities (Gym, Table-Tennis, Carrom, Chess, Cricket, Volley-Ball, etc.).
TEMPLE :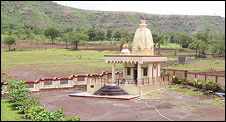 God helps those who help themselves, other and spread happiness in the society.
To maintain a healthy and peacefull enviroment in the campus Lord Shiva Temple is present.
MEDICINAL PLANT GARDEN :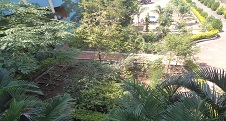 We also have developed Medicinal Plant Garden.
We are proud to say that we have the best Medicinal Plant Garden in University.
It has 75 medicinal plants of various species.It is well mantained and nourished .
OFFICE & STORE DEPARTMENT :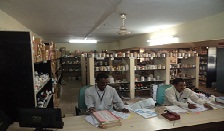 The office exists to help facilitate, intiate & co-ordinate the academic work of the institute.
It is well furnished, computerised & spacious with adequate no. of staff.
They provide assistance to the students and staff in office related issues.
There is a central store common for all laboratories.
Respective departmental stores are with the laboratories.
The stores keep adequate stock of glasswares, reagents, solvents, specimens, stationary etc. required for daily practical experiments.
Stores have chemicals worth Rs.10 lacs, glasswares - Rs. 7 lacs and instruments - Rs. 55 lacs.
EXTRA-CURRICULAR ACITVITIES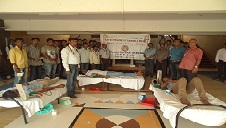 To make the students an all round personality and responsible citizens with social obligation, college boosts the activities like Gathering, Sports, Indepence Day, Ganesh festival, Pulse - Polio Immunization programme, Blood donation camp, NSS (National Service Scheme), Debating, Quiz, Elocution competition, Paper presentation, Poster presentation etc.
TRANSPORTATION :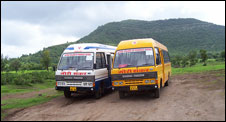 College provide the college bus facilites