About
Us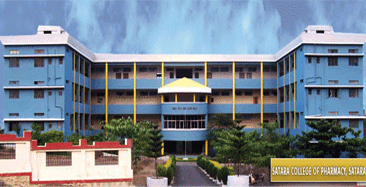 Today the college is recognised as one of the centres of academic excellence in the country. Over the years, there has been dynamic progress at SCOP in all academic and research activities, and a parallel improvement in facilities and infrastructure, to keep it on par with the best college in the country. The ideas on which the college is built evolve and change with national aspirations and trends world wide. Consciously developed, the campus has retained and increased its green cover, rich in natural flora and fauna. The peaceful atmosphere of the campus belies the full range of activities going on, that complements academic life. At present it is one of the leading institute in Shivaji University.
Mission
Pharmacy Education : Preparing The Servant Leaders Of Tomorrow
Satara College of Pharmacy exists to advance human health and quality of life by imparting value based updated pharmacy education and spiritualism so as to develop professionally competent and socially obliged pharmacists with highest nobility & self respect.
Vision
Satara College of Pharmacy would be known for leadership in education, research, public and patient care. To achieve this, we plan to excel in the following:-
Giving highest priority on personal, professional, social and spiritual development of the student, which will nature highest nobility & self respect in them. Creating educational experiences in Pharmacy, which will support our students and prepare them to face ever coming challenges in research and practice environment, Bolstering an infrastructure that fosters continuous quality education and ongoing career development.Seeking Industry Institute Interactions to advance learning science and practice.
Supporting intellectual integrity, honesty, reliability and accountability in all our actions.
Core Values
Academic Integrity:
We value our Institute that encourages personal growth and academic development in optimistic environment. We affirm the necessity of academic standards in students and faculty.
Spiritualism:
We believe the development supported by spiritual value, which drives our organisation.
Respect for Community:
We value our responsibility as a member of pharmacy community and a commitment towards society to cure human sufferings.
Self-discipline:
We value our responsibility in full development of every student in terms of a confident, self-disciplined and responsible citizen.
Courage:
We value our courage to challenge the status quo, state our intellectual and act on them.
Right Ethical & Moral Values:
We value our high ethical & moral values to uplift human life and pharmacy profession.
Good Governance:
We believe in having transparency, accountability & efficiency in whatever we do, thus ensuring good governance with high team spirit.
Various Departments
To have good governance, various departments have been formed in the institute as given below:
Academic Department
Exam Department
English Communication Department
Training & Placement Cell
Research Cell
Staff & Students welfare Department
Magazine Department
Cultural Department
Sports Department
National Service Scheme (N.S.S.)
Alumni Association
Human Resource (Faculty)
Human Resource (Students)